May 18th, 2013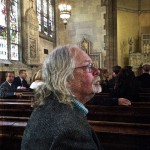 Songwriting is Danny's first love in life.  He began writing songs in 1966 and to date has written hundreds.  With long practice he has realized greater facility in a medium whose boundaries continue to expand.
Danny Speer was the primary songwriter and de facto musical leader for a number of Ithaca area bands including:  The Peabody Band (1973-1978), Sinbad (1980-1982), Pirates (1983), Flyboys (1984), Circle D (1989-1999), Speer-Specker-Henrie (2001-2004), Circle D Nation (2004-2007).
Speer shared the helm with David Kent in the Flyboys, and with Bobbie Henrie S-S-H and Circle D Nation.  In the latter groups, Henrie did the arrangements for songs written by Speer.
Danny Speer available recordings:
Jeremiah Peabody (1968-69)
Peabody Band Archives (1976 and 2012)
Peabody Band Live at Anabel Taylor Cornell (1976)
Peabody Band Royal Enfield Tapes (1979)
Sinbad Calf Audio Tracks (1981-82)
Pirates Calf Audio Tracks (1983)
Circle D Black Hats (1993)
Danny Speer & Dee Specker The Curve (1999)
Speer-Specker-Henrie Circle D (2003)
Circle D Nation Ever West (2006)
Danny Speer Where Were You When the Fun Began (2013)